To Our Valued Patrons,
As part of an on-going effort to improve your experience here at Zachvinson.com (in accordance with our corporate mission statement and by-laws), the powers-that-be who run this site have delevoped an exciting new feature that we are calling The Shoebox.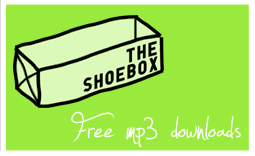 The Shoebox is very similar to an actual shoebox in that it is filled with odds and ends. It is not similar to an actual shoebox in that it does not contain shoes.
What it does contain is a collection of free mp3s for you to download at your leisure. From current ZV hits to vintage ZV treasures, we have them all, just for you.
And that's not all. This collection will change periodically, as songs are rotated in and out of The Shoebox, so be sure to check back from time to time.
We here at Zachvinson.com believe that you will be very satisfied with this new feature.
As always, your sheer delight is our number one priority.