Well, all good things must come to an end, and like most trilogies, this one probably should've ended sooner than it did. The second Matrix movie, really? The Return of Jafar? Three long stories about the customer service of ice cream manufacturers?
So if you need a refresher, catch up with Part One and Part Two.
To recap, Breyers and Haagen-Dazs have let me down with their one-two punch of unnatural ingredients and corporate form-letter customer service.
I stopped buying Breyers at the same time that they stopped responding to my emails.
Except for once when I tried their new gelato, because I have to eat.
The New Old Kid on the Ice Block
My most recent ice cream obsession has been Graeter's. They're similar to Haagen-Dazs in that they primarily sell pints, and they are pretty pricey. They are different from Haagen-Dazs in that "Graeter" is not a made-up word.
Their mint chocolate chip is like eating a silky cloud filled with minty fudgy raindrops. Just trust me on that. Or better yet, go to Graeters.com, find the closest pint to your house, and go buy it. I'll wait here.
This is what you're looking for: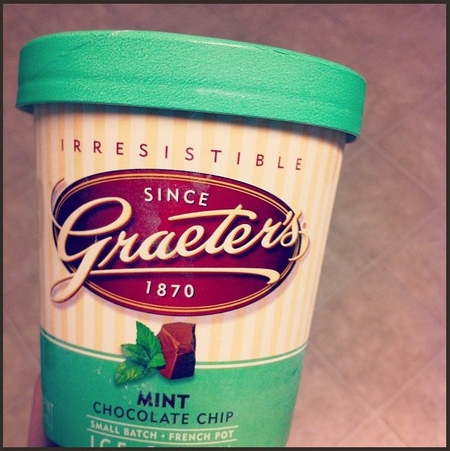 One Saturday afternoon, I submitted a message through their website, telling them that I thought they were doing a great job.
This is that email (well, a shortened version, anyway):
I just wanted to say that I have recently discovered the magic and wonder that is your Mint Chocolate Chip ice cream. It's the best pint of store-bought ice cream that I've ever had. Thank you for making insanely good ice cream, and for not compromising the quality of your ingredients or the integrity of your product.

p.s. I attached a picture of myself so you will know I'm not a real weirdo (and I no longer have that mustache).
Less than 90 minutes later, I GOT AN EMAIL BACK FROM THE PRESIDENT OF THE COMPANY. ON A SATURDAY AFTERNOON.
That's right, Rich Graeter II himself (the man, the myth, the legend) sent me a personalized email, talking about the difference between Graeter's, Haagen-Dazs, and Breyers (because I went on a little bit of a rant in my email to them). He also said that Graeter's is still making their ice cream in small batches, just like they have been for the last 143 years.
A couple days later, I got another email from their production manager, saying how much he appreciated my kind words, and that he was going to share my email with the rest of their production team to encourage them in all their hard work.
Thankfully, neither of them mentioned how weird it was that I sent them a picture of myself.
The Moral of the Story
After all this, what remains from this piece of in-depth investigative pseudo-journalism?
I suppose there's the predictable rant about corporate America and supporting small businesses, which is generally good and true and doesn't need to be repeated here.
I'm reminded that kind words are always worth the energy, whether it's because you love a person, or their art, or the ice cream they make in a factory.
I'm reminded that there is a beauty and a dignity in doing things in small batches that will only be appreciated by a small group of people.
For all of my generation's love for travel and adventure, it is easy to lose the value of a "small" life lived in a small place with a small circle of friends, that more than makes up in depth what it may lack in breadth.
I could go on, but I think Gandhi said it best:
"Be the ice cream you wish to see in the world."
Amen, Gandhi.
Amen.