I've been slaving away on these hand-made cases, and I was just realizing that you haven't gotten to see the finished product yet. They come in five different colors (actually different six colors, but one is a secret color) and look something like this: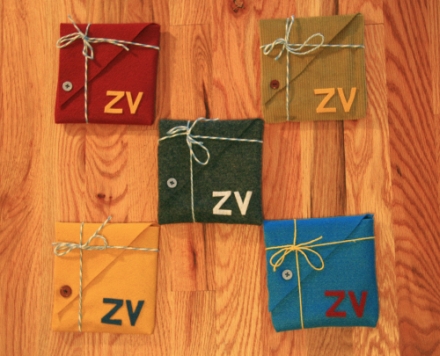 Most of them are made out of felt, but that olive green one in the top right is corderoy, just like the pants of an old man.
Untie that little bow and unbutton that little button, and you will find something that looks like this inside:

The artwork on the far left and far right is hand-stamped, which you can read more about on this post from a couple weeks ago.
Lastly, here is your second song from the new album as we count down to the release of "The Streets Will Turn to Streams" on Friday! I give you……"Left Hands."
Song #2 – Left Hands!
[audio:https://zachvinson.com/wp-content/uploads/2011/01/02-Left-Hands.mp3|titles=Left Hands]
And in case you missed Song #1 yesterday, Seep:
[audio:https://zachvinson.com/wp-content/uploads/2011/01/01-Seep.mp3|titles=Seep]