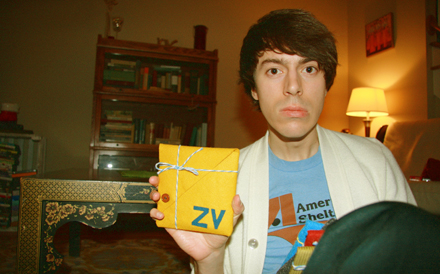 Thursday is a mellow sort of a day. It's not the weekend yet, but it's the fourth weekday in a row, and you're getting kind of sick of them. We here at Zachvinson.com (I find that saying "we" instead of "me" makes me sound much more legitimate) know the feeling, and we (me) are here for you.
To help you through this day, here is a list of mellow things that are appropriate for a Thursday:

–Drinking tea (perhaps an herbal tea; non-caffeinated for extra mellowness).
–Eating marshmallows (see how it allllmost says "mellow" right in the word?).
–Thinking through your schedule for tomorrow (Friday) so you can carve out some time to order "The Streets Will Turn
To Streams" when it is released in my online store (hint hint).
–Staring blankly at puddles of rainwater.
–Pretending to watch documentaries (I don't actually like to watch documentaries, but I know that it sounds intelligent to bring them up in casual conversation).
–Daydreaming about how the texture of the felt will feel in your hands when your copy of "The Streets Will Turn To Streams" arrives in the mail.
–Listening to the sound of the ocean in a seashell.
–Listening to the sound of an actual body of water, because there really isn't an ocean in your stupid seashell.
–Closing your eyes for a couple minutes and listening to this new song I'm sharing with you, "Love Is Where."
New Song #3, Love Is Where:
[audio:https://zachvinson.com/wp-content/uploads/2011/01/04-Love-Is-Where.mp3|titles=Love Is Where]
And a recap from the last couple days:
Left Hands
[audio:https://zachvinson.com/wp-content/uploads/2011/01/02-Left-Hands.mp3|titles=Left Hands]
Seep
[audio:https://zachvinson.com/wp-content/uploads/2011/01/01-Seep.mp3|titles=Seep]